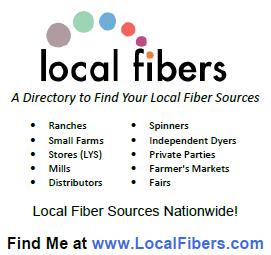 I found this website just by chance. I clicked on a link on someone's Facebook page and all of a sudden there I was…surrounded by fiber.
They have a detailed list of fiber resources in the US and Canada. You can search by state or region. When I click on Texas, 16 different fiber resources come up as well as 1 fiber event. Some of the resources are familiar others are new to me.
This is such a great website for us fiber lovers. We can go on there and find fiber for the area we live, areas we are passing through or are visiting.
Are you a fiber source, fiber provider, fiber processor or distributor of fiber materials? Submit your listing for FREE here to be added to Local Fibers. You may even be on there and not even know it! Local Fibers will add listings that they find and 3rd parties are allowed to add resources as well. If you need to update your listing you can contact them anytime via email.
Support Local Fibers by donating, helping to spread the word or grab a badge!
How many fiber resources do you have in your state?
Thank you for stopping by and have a wonderful day!